Not every lady is fortunate enough to have long hairs like Rapunzel, but don't feel bad about that. Yes, these ladies standout with these hairs. Yes, all heads turn to their direction when they step into the room- well contrary to what you think they are not angels, they are simply humans like you.
Do you know that you can solve the problem of hair loss, and shortness of hair without visiting the surgeon? Do you know that you are not the only lady who desperately wants their hair to look exceptionally beautiful? Don't be surprised most ladies always want that kind of hair that will make them look like their favorite movie star?
Here is the secret that these ladies know that you know nothing about. The secret is a special type of hair extension.
Hair extensions that come as clip-ins are one of the ways stylish ladies get to create their dream hairstyles, and with these hair extensions, ladies can switch between the different styles of their choice at the most affordable rates.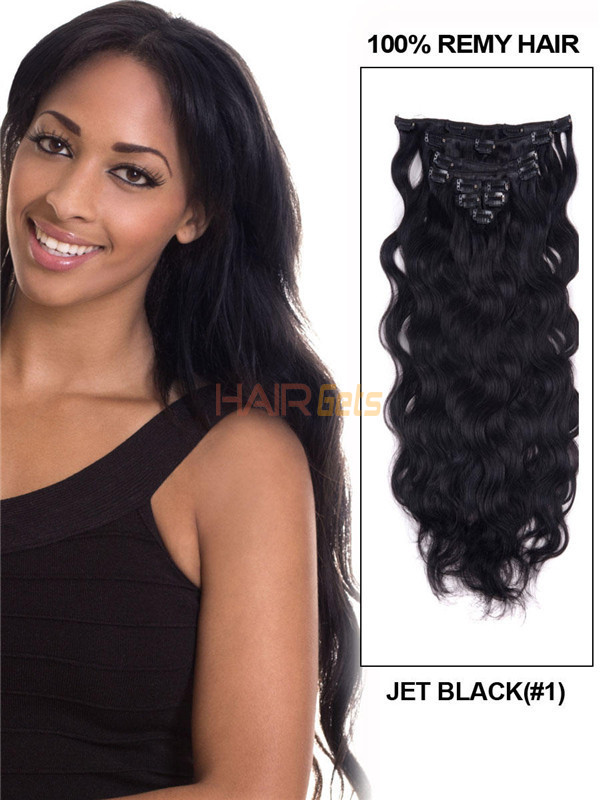 Jet Black(#1) Body Wave Deluxe Clip In Human Hair Extensions 7 Pieces
What Is A Clip In Hair Extensions?
They are one of the most common kinds of hairstyle for ladies with one hair deficiency or the other. They can be sewn in or glued in, and they are a form of extension used by ladies to give their hairs an extra length or extra thickness, depending on what their need or style is.
Advantages of clip in hair extensions
There are many reasons why most ladies make this hairstyle their favorite kind of hairstyle. These reasons range from comfortability, beauty, practicality etc.
They are very dynamic: Have you ever thought of revamping your look? Or are you going for a special date and you want hair that will give you a different look? If your answer is yes! Then you choose the right hair extension. Hair extensions that are clipped in are the most dynamic kinds of hair extensions that can be worn for any occasion. You can fix them any way you like, but one thing is sure, they are dynamic enough to make you stand out either on a regular workday or for a special occasion.
They are easy to maintain: Easy maintenance tops the list of qualities to look out for when choosing a hair extension. One of the qualities that set this hair extension apart from others is the fact that it is easy to maintain. This hair extension is ranked top as a low maintenance' hair extension because you do not require the help of a hairdresser to install them. They are easy to fix, easy to maintain, and easy to remove. All you have to do is to clip them, style them, and you are ready to conquer the world.
They are the perfect choice of hair extension for adding color to your hair: Are you looking at adding a shade of neon or ombre to your hair? You don't have to dye your hair, all you have to do is to get hair extensions such as a Body Wave Clip In Hair Extensionswith the shade of neon or ombre and watch your hair light up with minimal effort.
They do not damage hair: one of the reasons why most women steer clear of hair extensions is because they fear hair damage during installation. During the process of clipping, sticking and attaching other forms of hair extensions, most women's hairs suffer from cutting, shedding, or other types of damage. This is not the case with this kind of hair extension as the ease of installing and removing this hair extension prevents your hair from being damaged.
They are the most comfortable hair extensions: An interesting characteristic of this hair extension is that they are lightweight and easy to wear. As a lady, you can wear them for hours, for days and weeks if well maintained. This is because they are the most comfortable type of hair extension.
They are the best for beginners: not everyone has worn hair extensions before, and if you have never worn any of it ever, they are the best choice for you. Some hair extensions are complicated because they require a lot of tools or processes to fix; these processes are time-consuming, energy-sapping, and in some cases, very expensive. No beginner will feel encouraged to make them again, but with this hair extensions, you will want to wear them over again even after your first time
In conclusion, it is vital to know that no matter what style of clip in hair extension, whether body wave clip in hair extensions or any conventional one, there are so many benefits you stand to enjoy.
Need more Clip In Hair Extensions? Check It Out